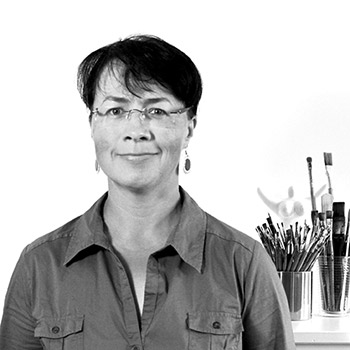 About Biriney
"Biriney" is the pseudonym of artist Barbara Löschner. She has a degree in interior design from the Trier University of Applied Sciences. After graduating in 2003, she worked as a freelance artist and designer.
Barbara was born in France and grew up in Ortenau, a region in the south of Germany, with four siblings. She has been fascinated by figurative art from a very young age. She was only four years old when she crafted her first clay figurines in her father's ceramics workshop.
As she grew older, she drew inspiration from art courses, internships, her travels and time spent living abroad. Barbara has been curious and enthusiastic about other countries and cultures since she was young. She has spent the most time in Morocco and Italy, and worked with local artists there.
Biriney created her first Nana figurine in 2004. Over the years, she has constantly added new materials and techniques to her repertoire. She created hundreds of figurines to date which are hallmarked by elaborate polychrome paintwork.
The artist has made her home in the region where the borders of Germany, Luxembourg and France meet. In 2014, she purchased and renovated a historic estate in Konz (near Trier), where she lives with her family today.
Here, in the beautiful countryside of the Saar-Mosel region, she draws the motivation, strength and inspiration she needs to devote herself to her work.
"The diversity of shapes in the human body with all its different expression constantly fascinates me anew. For me, there is no definition of a beautiful body. What's important is its direct impact and the ability to perceive a living soul. Imperfections often have the greatest appeal."
Biriney